A week after I returned to the U.S. last November was attend my friends Chris and Kate's wedding. At the reception one of the things that astonished me was that nearly every guest brought a digital camera.
Most people hire a professional photographer for their weddings, but I thought you would see some great shots from guests simply because there are so many more of them. Besides, it often takes professionals weeks before you actually see their photos. Having immediate access to candid shots from the day would be nice for the couple.
But when everyone returned home, I found that there was no good way for all the guests to give Kate and Chris their photos. Email can't accomodate such large files; posting them to Facebook or a free photos sharing site like Kodak doesn't allow you access to the original files; and recording everything on a CD-R and dropping it in the mail is a hassle. What's a solution?
I tried an active approach: a few weeks ago I went to my friends Maureen and Matías's wedding and I brought a laptop to the reception where I asked guests with digital cameras to let me download their photos to put on a CD for the bride and groom. At the end of the night I had over 2 gigs of photos.
As I reviewed the photos I noticed two things. First, the vast majority of pictures weren't good. Most pictures suffered from technical problems, like red-eye, noise, blurriness, and improper focus. Camera makers still have plenty of areas for improvement. In low-end point-and-shoot cameras it seems like everything could be better. Here are a few typical shots: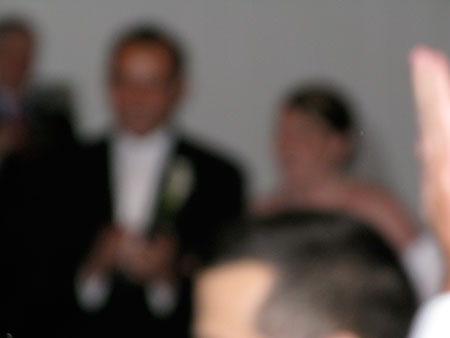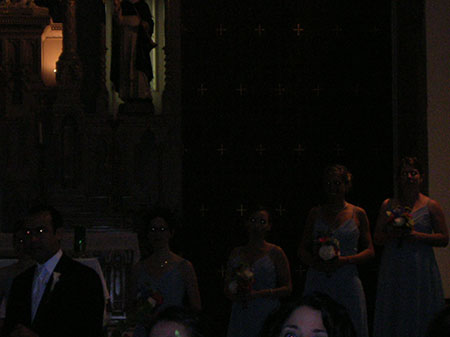 A wedding is presents a difficult environment for good pictures—there's low light, you may be far away—but it's also prototypical example of when people want to use their cameras.
Spending more money on a better camera may help: one guest was using a Nikon D200, a high-end digital SLR (in consumer terms), and looking at her pictures was like a breath of fresh air. Nearly every photo was in focus and few were blurry.
The high frequency of poor shots might be discouraging, but the odds are on your side when you have a large quantity of photos. My second point is that almost every set of pictures had some excellent images. Not excellent as in publish-in-National-Geographic, but still meaningful pictures of an important day. A professional photographer can't take pictures of all the guests all the time, and you get a wider spectrum of photos with crowd-sourcing.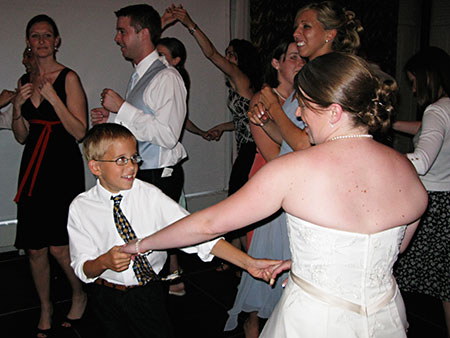 From what I've seen, professional photographers don't have to worry about being replaced at weddings by an army of amateurs; You want someone who is highly skilled to take the most important pictures at your wedding. It's a nice addition, however, to have the extra pictures your guests take. Who knows—maybe downloading guest photos is a service some professionals will provide one day.
One final esoteric note: Most people have the date set correctly in their cameras; next to nobody has the time set correctly, even adjusting for time-zome differences.