26 June 2007
12:53 PM
3 Comments

There are thousands of photographs of Jorge Cornejo throughout Santiago. He is the head of customer relations for the Santiago Metro, and he appears everywhere to remind riders to let others off before boarding, among other suggestions. There are so many pictures of the man on the subway that I occasionally envision him as a kind of transit Big Brother, monitoring my every move. Jorge, however, is not the most depicted man in Chile. That distinction, I believe, belongs to Miguel.

I can't tell you very much about Miguel. This is all I know about him: He has little hair; his beard and the hair that remains are white; he smoked for 20 years, and he lost his larynx to cancer. This last detail is the reason for his fame. Miguel appears on packs of cigarette in Chile as part of the Ministry of Health's warning label. The front label reads, "Warning: These cigarettes ARE KILLING YOU." The back is Miguel's photo and a brief description.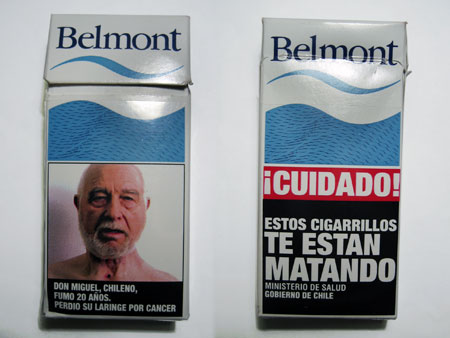 Unlike the U.S., where cigarette manufacturers choose from a selection of alarming surgeon general's statements, there's just one option here: Miguel. I see dozens of him staring at me from every convenience store, shop, or kiosk that sells cigarettes. His photo litters the ground wherever people have discarded their empty packs. It goes to show that there's more than one route to fame.